Non Boring Family History
Speaker Topics: Writing a Non Boring Family History
Every family has secrets. And the extraordinary 'ordinary' stories deserve to be told. Researching and finding the best way to tell these stories can be a fascinating journey and the chance to create a valuable resource for your descendants.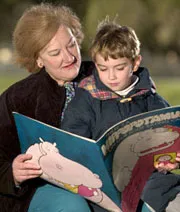 Hazel's Non-Boring Family History Workshop covers topics including
Researching and Interviewing Skills
How to organise your material
Structuring a Book
Making it interesting for the reader
Formatting and Publishing Options
Handling Family Secrets
Editing and Proofreading
How to write using all senses and perspectives
Launching and Marketing possibilities
Suitable for all who wish to improve their writing skills as well as for those contemplating or struggling with a book length project such as a family history, corporate history or autobiography/memoirs. Also suitable for those writing family history stories and anecdotes for younger children in their families.
The workshop is based on Hazel's book Writing a Non Boring Family History. also available as an e-book.
Can also be a 1 hour lunchtime talk.
The Public Records Office (Vic) offers Hazel's year long  'Complete Your Book in a Year' and in 2023, some Skype sessions may be available for interstaters. Contact Hazel for details.